Harry Markowitz, a giant in the world of finance and a Nobel laureate, passed away on June 22, 2023, in San Diego. His contributions to financial theory are legendary, his influence immeasurable.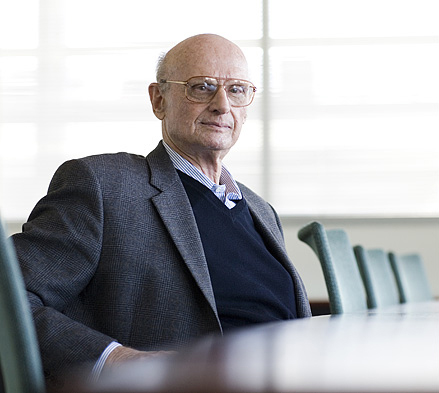 Yet, for those who knew him or had the opportunity to interact with him, his humble, unassuming nature left an indelible mark.
I once read Harry Markowitz, referred to as "The Gentle Genius of Finance." It was a phrase that intrigued me, as it seemed to encapsulate both his towering intellect and his humane approach to his work. I could never fully grasp the profundity of that phrase until I had the privilege of working with him in person.
In 2011, Harry Markowitz was the keynote speaker at the Dunham Institute. I was struck not just by his intellect but by his humility and grace.
He was a man who had won a Nobel Prize and revolutionized the way we think about finance and investment. Yet, there was no air of superiority about him, no pretense, just quiet confidence, a sense of modesty, and a focus on what he was about to teach the financial advisors we had for the Dunham Institute that year at Torrey Pines.
During his talk, he exhibited an unparalleled depth of knowledge and insight, making complex concepts seem straightforward. Yet, more importantly, he made it about the financial advisors in the audience rather than himself. He was not there to bask in the glow of our admiration. Instead, he genuinely wanted to share his knowledge to help us better serve our clients and navigate the challenging world of finance, especially with the financial crisis still vivid in our minds.
But what truly stood out that day was the time he spent with us after his talk. He stayed for hours, listening to financial advisors' experiences, answering their questions, and sharing his insights. He took the time to take a picture with every one of the 97 financial advisors in attendance that year, his ever-present gentle smile a testament to his generous spirit.
Looking back now, I realize that the phrase "The Gentle Genius of Finance" wasn't just about his intellectual prowess. It was also about his heart, how he treated people, and his humility and generosity.
We have lost a great mind with the passing of Harry Markowitz. But his legacy endures in both the remarkable body of work he created in his lifetime and the lives he touched.
Thank you, Harry Markowitz.
Your ideas have shaped our profession, and your spirit has touched our lives. Your legacy will continue to light our path as we navigate the world of investing and asset allocation, helping us balance risks with rewards, just as you taught us.
You will be missed but never forgotten.
Disclosure: This communication is general in nature and provided for educational and informational purposes only. It should not be considered or relied upon as legal, tax or investment advice or an investment recommendation, or as a substitute for legal or tax counsel. Any investment products or services named herein are for illustrative purposes only, and should not be considered an offer to buy or sell, or an investment recommendation for, any specific security, strategy or investment product or service. Always consult a qualified professional or your own independent financial professional for personalized advice or investment recommendations tailored to your specific goals, individual situation, and risk tolerance.
Dunham & Associates Investment Counsel, Inc. is a Registered Investment Adviser and Broker/Dealer. Member FINRA / SIPC. Advisory services and securities offered through Dunham & Associates Investment Counsel, Inc.